The new Safe Browsing warning
By Click&Clean - Sunday, November 18, 2018. Google has announced via the Chromium Blog that starting with the release of Chrome 71 in December 2018, Chrome will include a feature that shows a full-page warning to users when they are visit web pages that come with deceptive mobile subscription forms.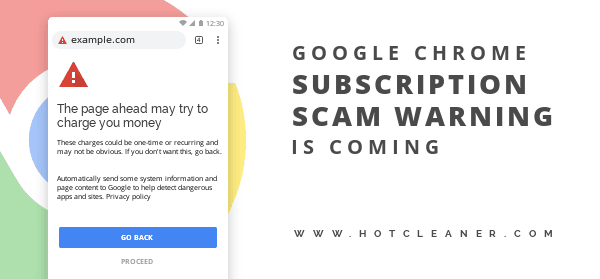 Deceptive sites might require you to enter your mobile information before viewing content or accessing a game, then charge you for a hidden subscription without your full knowledge or even if you don't explicitly agree to it. You only find this out when you check your mobile balance or you see it on your monthly bill.
Starting with Chrome 71, when you visit a page that has been flagged as deceptive, you will end up on a warning page that states "The page ahead may try to charge you money." This warning will be displayed before you are aloowed to sign up or submit any information. The new Safe Browsing warnings for unclear subscription services will be available on both desktop and mobile browsers.
Check your search quality

Show results for Click&Clean …