Microsoft's new Chromium-based web browser
By Click&Clean - Friday, January 18, 2019. In December 2018, Microsoft confirmed plans to move its Edge browser for desktop to the open-source Chromium-based web platform used by Google Chrome, Opera, Vivaldi, and other browsers. The updated browser will also support all Chrome extensions.
Check your eearch quality

Show results for Click&Clean …
This is great news for those who already use Chrome extensions for security, privacy, productivity, and more. Chrome has a huge library of great extensions such as Click&Clean and History Eraser that help people to enhance their browsing experience, so enabling the existing Google Chrome extensions in the new Edge web browser is great for all users.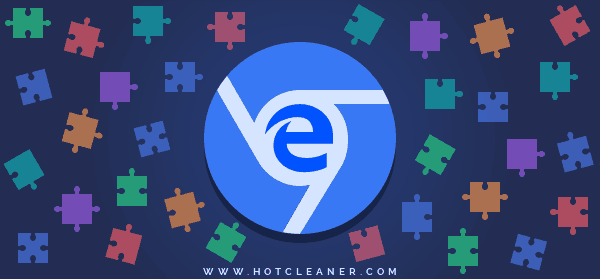 A Brief History Of Microsoft's Edge Browser
Microsoft developed the Edge browser, which made its debut in 2015 as the default browser for Windows 10. When Edge was first released, it didn't support plugins or extensions, and it wasn't compatible with older versions of Windows, including Windows 7 and 8. It felt unfinished.
In August 2016, Microsoft launched a new version of Edge that supported extensions. But it supported only a handful of extensions, and the situation did not change in the future. The Edge browser has never been able to match its competitors, and at the moment Edge for desktop has only a 4.2% market share.
But now Microsoft has confirmed its plans to move the Edge web browser from its own platform to the open-source Chromium-based core to provide the best web browsing experience, and greater compatibility and performance, for many different audiences.
The Upcoming Changes To The Edge Web Browser
First, Microsoft's new Chromium-based Edge web browser will support Google Chrome extensions, which will greatly expand the functionality of the browser and significantly boost Microsoft Edge's appeal. Edge users will be able to install hundreds of extensions to customize the browser, to improve their privacy and security on the web, and so on.
An immediate advantage of using the Chromium platform is that the new version of the Edge web browser is cross-platform. It will work not only on older versions of Windows, including Windows 7 and 8, but also will be launched for macOS and other platforms in the future.
In addition, the new Chromium-based Edge browser will be updated much faster and more frequently. Therefore, browser updates will be released independently from Windows operating system updates, and users should expect regular updates that will keep the browser working at its best.
We have to wait a bit before we can try the new Chromium-based Edge web browser: Microsoft will likely release the first preview builds in first quarter of 2019. There is no estimate on when public version of Chromium-based Edge will be released, but it is expected to be the second half of 2019.
Privacy & Security Manual
Don't Forget to
Contribute ❤
, Like & Share!
The number one
Cleaner
for your browser -
Click&Clean
,
Safe and Secure Browsing!