The #1 Private Data Cleaner

For Google Chrome™ Web Browser
The Click&Clean web browser extension is a Private Data Cleaner for Google Chrome web browser that helps you clean up your private browsing data, thereby protecting your data security, data privacy, and keeping you safe online. It's one of the top-rated web browser extensions in the Chrome Web Store and is actively used by over three million home users, small business owners, and anyone who cares about their data security, data protection, data privacy, and cybersecurity.
Clear Browsing Data

Data Protection and Cybersecurity
Why should I use Click&Clean? Your web browser and system keep tracks of your Computer and Internet activity. Websites and apps may gather cookies or otherwise collect sensitive personal data about you. What's the risk? Anyone with access to your sensitive personal data may use it for their own selfish purposes, for example share your private data with advertisers. By using the Click&Clean web browser extension, you can protect your data privacy, data security, and online privacy. This is one of the first cybersecurity measures that sounds very simple and maybe even trite - "Less browsing data, less problems!"

How is Click&Clean different from similar software? Usually, when you run any other cleaning applications, an error message will prompt you to close Chrome to complete the deletion. With the Click&Clean app you don't need to close your browser, because it uses built-in Chrome capabilities together with an advanced smart-cleaning techniques. The cleaner app allows you to perform safer and more deep cleaning without disturbing your work and does all that with one click! Private Data Cleaner also gives you the option to save your browsing data to an HTML file before deleting that data.

I'm running porn mode..sorry, Incognito mode, do I still need to use Click&Clean? Yes. On the Chrome Help site we can read the following warning: The web pages you visit may still hold records of your visit. Any temporary files saved to your computer will still remain on your computer! View full article: Chrome Help > Incognito Mode
The Main Features Of

Click and Clean Extension
Private Data Cleaner Features. Click&Clean web browser extension for Chrome has a very powerful set of features and yet easy-to-use! It's designed for everyone, with all levels of users in mind, from housewives to experienced professionals. The following are the main features of Click&Clean in a nutshell:

You can choose one of the predefined cleaning modes: Low - Medium - High and Dev mode - an advanced mode for experienced users and developers.

You can remove your browsing data from the beginning of time or from a certain period of time: from the past 1-24 hours, from the past week or choose any date and time you wish.

You can delete all your private data at once or just a specific item: Delete Browsing History - Delete Download History - Empty the Cache - Delete Cookies - Clear Saved Passwords - Clear Saved Form Data - Delete Local Storage - Delete WebSQL Databases - Delete Indexed Databases - Delete File Systems - Empty Application Cache; Delete Plug-in Data; etc.
Click&Clean Download

Install The Cleaner App From Chrome Web Store
Private Data Cleaner Download. You can download and install Click&Clean from Chrome Web Store or right on this page - It's Free, Fast and Secure! To do this, just click on "Add to Chrome" button below, then hit on "Install" to start downloading and installing or "Cancel" to cancel installation. Once the Cleaner app is added to your Chrome, you can start using it right away, you don't need to restart your PC or relaunch Chrome. By downloading and installing Click&Clean, you agree to our privacy policy.

100% Clean, Safe and Free, No Hidden Things!
Version: Click&Clean for Google Chrome™ 9.7.8.0
Extension ID: ghgabhipcejejjmhhchfonmamedcbeod
Released: February 17, 2023
License: Freeware
OS: Windows 10 / 8.1 / 7 / Vista / XP
Mac OS X / Linux (Ubuntu, CentOS, …) / Chrome OS
Browser version: Google Chrome™ 54+
UI language: Dansk, Deutsch, English, Español, Français,
Italiano,日本語, 한국어, Nederlands, Polski,
Português (Brasil), Русский, Svenska,
Türkçe, 中文 (简体), 中文 (繁體)
How to Install The Cleaner App Manually

In Google Chrome™ or Chromium Web Browsers
To install Click&Clean web browser extension to Google Chrome™ or Chromium manually, from our website:

1. Download the latest extension package as CRX file. 100% clean and safe, scanned by Virus Total.

2. For security reason, you can check downloaded file size and hash. File size: 420KB / 430828 bytes,
hash - SHA256: b6226bcacd29e660a69527a41f853607bbc894967d7bc8898381c7ac93510eb2

3. Open the Chrome extensions page chrome://extensions and enable "Developer mode" at the top right. Drag and drop downloaded CRX file into the extensions page to add the extension to Google Chrome™ or any Chromium based browser.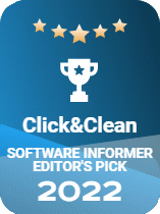 Click&Clean has been awarded the Editor's pick 2022 badge by
Software Informer
!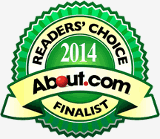 Click&Clean is a finalist for Best Privacy and Security extension!
Each of us can contribute to make Click&Clean better for everyone …
Securely via PayPal
Media Reviews
---
MakeUseOf
We at MakeUseOf highly recommend this extension and know it will add value to your browser and computer experience, as well as help you be safer.
- MakeUseOf
Cnet
If you happen to be a Google Chrome user, then Mixesoft's Click&Clean is specially made to make your Internet surfing experience a little bit safer
- Cnet
Screenshots
---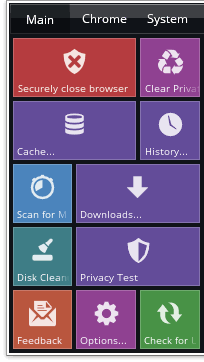 View all screenshots
.
Getting Started
---
How to adjust Click&Clean settings and bring your security and privacy online to a whole
new level
.
Help & Support
---
If you have any suggestions, questions or comments about Click&Clean please use our
support form
.
Related Apps
---
Click&Clean for Microsoft Edge™
The best browsing data cleaner for MS Edge™ web browser.
Cleaner for Edge
.
Click&Clean for Firefox
The easy way to delete your browsing history and private data on
Firefox
.
History Eraser
The fast, free and powerful history eraser. Deletes browsing history in a second or two.
History Eraser
.
Cookies App
A powerful and easy-to-use
Cookie Editor …
.
Popular
---
Stop Spying on Your Account
Stop spying on your Google Account and prevent third-party apps from accessing your Google account.
Security Checkup
.
Secure Your Webcam
Why your webcam security matters? Should you cover your webcam?
Secure Your Webcam
.
Tips for Creating Secure Passwords
How to make your password more secure? Tips for creating secure and easy-to-remember
passwords
.
Test
Test your search quality. Show results for Click&Clean.