Google Has Released Chrome 69
By Click&Clean - Wednesday, 12 September 2018. Dear all: As you know, Google released version 69 of Chrome early last week, in time for the browser's 10-year anniversary. It's a pretty big update that includes a number of improvements, 40 security fixes, a new user interface, a completely revamped built-in password manager, an updated autofill option, and several new features.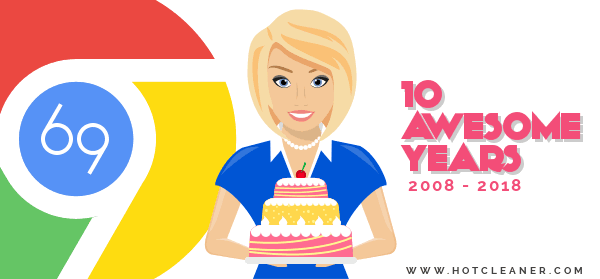 Update Chrome Right Now
What's New In Google Chrome 69
The most notable change in Chrome 69 is the new user interface, which includes more rounded tabs, a round-edge URL bar, clearer prompts, a revamped color palette, and new toolbar icons. The new design is intended to provide a cleaner, simpler, and intuitive look that will make your life a little bit easier. As always, Chrome's updated features focus on privacy and security. One of the key security features is Chrome's improved password manager, which auto-generates a secure, unique, and strong password when you need to create a new account on a website.
Another security-focused feature in Chrome 69 is that Google Chrome now removes the word "secure" from encrypted HTTPS sites when they are loaded in the browser. On the other hand, Chrome will now mark unencrypted HTTP sites more prominently when you visit them. The other big change concerns the Flash plugin. Now, you will need to allow a site to use Flash every time you restart Chrome, even if you have approved it in the past.
Update Google Chrome right now, and use it with Click&Clean to improve your privacy and Internet security. Together we make the Internet safer!
Check your eearch quality

Show results for Click&Clean …