The Importance Of Keeping Your Chrome Extensions Updated
By Click&Clean - Tuesday, 19 March 2019. One of the reasons we like Google Chrome is that it has a huge number of extensions that allow you to add extra features and functionality to your browser. As with any other operating system or software, your Chrome extensions also need to be updated to the latest versions on a regular basis.
Check Your Search Quality!

Test results for Click&Clean …
The main reasons you should update your extensions are related to bug fixes, feature and security enhancements, code optimization, and the addition of new features and capabilities. Sure, Google Chrome normally rolls out extensions updates itself automatically in the background, but it checks for updates on its own schedule.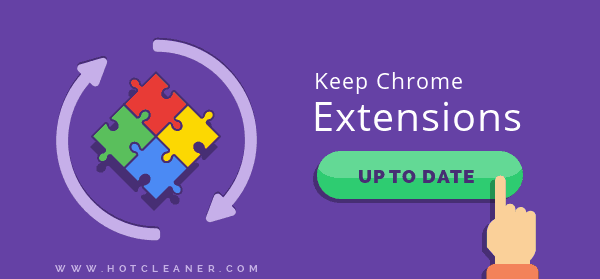 This means that when a new version of one of your installed extensions is published on the Chrome Web Store, the extension will not necessarily be updated immediately.

The extension update process may take some time to actually complete. Sometimes, it can take a couple of days, in some cases, up to several weeks, and sometimes, for some reason, automatic updates do not start.

Luckily, there's a workaround for such cases in order to force Google Chrome to update all your installed extensions right now and start using the new version of an extension ASAP.
3 Ways To Manually Update Extensions
Here's how you can force Google Chrome to upgrade your installed extensions to the latest version whenever you want.
Method 1
In Google Chrome, type or copy and paste chrome://extensions into the address bar, or you can click the three dots icon in the upper right of Chrome, then navigate to "More tools" and select "Extensions". On the extensions page, enable "Developer mode" at the top right, then click "Update". After that, we recommend that you restart Chrome.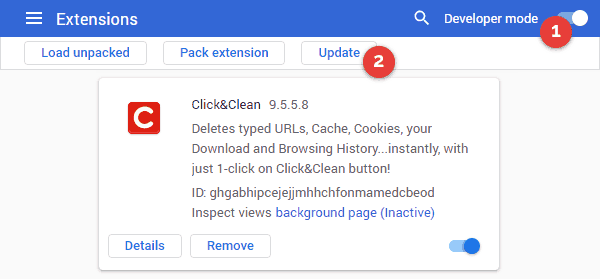 This will update all of your installed extensions to the latest version available from the Chrome Web Store.
Method 2
You can install the update of an individual extension manually by downloading it from the developer's website. For example, download the latest Click&Clean for Chrome CRX file from our website to your computer.
Head to the extensions page and turn on "Developer mode", as explained above in Method 1. Drag and drop the downloaded CRX file into the extensions page, then confirm the installation by clicking "Add extension", and that's it.
Please note that this method works only if the extension is verified and available on the Chrome Web Store.
Method 3
You can simply uninstall and then reinstall an extension from the Chrome Web Store, since you are installing the latest version of the extension in Chrome. Right-click the extension icon in the Chrome toolbar and select "Remove from Chrome..." or select "Manage extensions", then click the "Remove" button near the extension you want to uninstall.
Go to the Chrome Web Store, find and select the extension you want to reinstall, then click "Add to Chrome". But keep in mind that using this method may affect personalization and some other things, such as by reseting the extension preferences.