Don't Click on Links That Look a Little Strange
By Click&Clean - Friday, 1 November 2019. When you visit any web page, you will usually see several links around the page suggesting that you click on them for more information or to read an entertaining article and so on. This is normal and not harmful.
Check your search quality

Show results for Click&Clean …
But today, we want to talk about suspicious and malicious links that might take you to phishing sites—websites with viruses that can initiate the download and installation of malware on your device without your knowledge, which can lead to security and privacy threats, as well as theft of your personal data.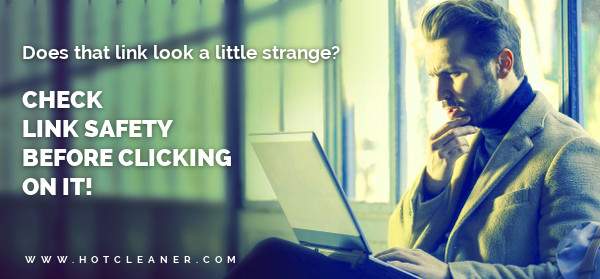 Fraud is one of the fastest growing privacy and security issues these days. Internet scammers often send spam emails containing malicious links, post phishing links online, and try to trick people into unwittingly clicking on dangerous links.
If you received an unsolicited email stating that you won the lottery or asking you to "verify your personal info", then you're probably the target of a phishing attack whose purpose is to try to get your details or money.
Often, hackers use shortening services such as tiny.cc, bit.ly, etc. or add a lot of strange characters to the link to hide the true URL that leads to the malicious website or virus software.
Therefore, for your safety and protection, it is very important to check suspicious or strange links before clicking on them.
Check If a Link Is Safe Without Clicking It
Here are a few steps to help you verify the safety of your links without clicking to activate them.
1. Click the button below to head directly to the link-scanning service to check the safety of the link.
2. Paste the copied link into the "Search or scan a URL" field and click the "Search" icon. The service will check your link and present a report or summary of what it found.