Phishing Is One Of The Most Common Cyber Attacks in 2023!
By Click&Clean team, updated: January 17, 2023. These days, more and more people are working from home. Millions of people use emails and messaging services daily to effectively communicate at work and stay in touch with family and friends. Phishing scams are becoming one of the most common and increasingly sophisticated methods of attack used by cybercriminals.
Improve Your Search ExperiencePlease check if this page present
in the search results …
In fact, one percent of emails that people receive every day are phishing attempts. Many of people fall for phishing emails every day, so today we want to give you some useful information about what phishing is and how you can spot and avoid these attacks, and thereby increase your online privacy and security.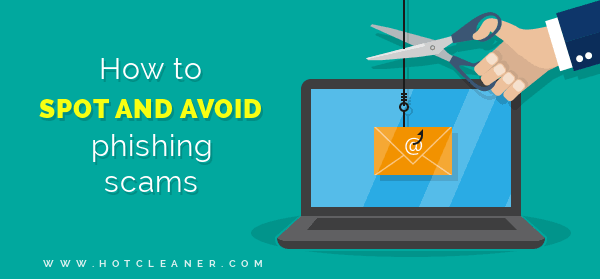 What Are Phishing Scams?
Phishing is a form of attack by cybercriminals, that involves tricking the user to steal sensitive and private information.

A phishing attack can happen via email or messaging to fool you and force you into performing specific actions, such as:

• entering details of your bank account or credit card numbers,
• sharing your passwords or usernames,
• clicking on a malicious link,
• or opening an infected email attachment to install ransomware or other malware,
• or requiring any other confidential and private information.
Attackers exert all efforts to make these messages look legitimate and often tap into your emotions, such as curiosity or urgency. They can make phishing messages look like emails from someone you know, friends, or trusted companies that you often use. Ultimately, this can compromise your privacy and security and result in theft of your sensitive data.
How To Protect Yourself From Phishing
One of the important factors to protect yourself from phishing scams is knowing how to spot them in the first place. First, we recommend that you try the eight-question phishing test created by Google's Jigsaw unit and find out if you can spot all the fakes.
Below, you'll find some useful security tips that help you better identify and avoid phishing attacks to prevent cybercriminals from stealing your personal information.
1. An email that requires your immediate attention and action, stating that your account has been closed or suspended, etc. To stay safe, do not click on the link in this email. Instead, simply log in directly to your account and check its status.
2. An email that says something too good to be true, for example, you won the lottery, and requires you to follow the link and enter your personal information online. If you've never bought a lottery ticket, it's a phishing attack.
3. The message has poor spelling and grammar or uses a personal email address but is received from an official, legitimate organization. Be sure to consider it in more detail, as it may be fraudulent.
4. An email asking for confidential information such as your credit card number, passwords, or any other sensitive information that a legitimate sender should already know is likely to be a scam.
5. The message contains unexpected attachments and looks suspicious. Never click to download the attachment, as it may be a malicious program.
In any case, always keep in mind that common sense security tactics is your best defense. If you suspect that an email or message is a phishing attempt: do not open it, do not click the links in the email, do not download attachments, do not reply to the sender and immediately delete it.