About Microsoft Edge Web Browser
By Click&Clean - Last Updated on Sunday, December 1, 2019. If you remember, earlier this year, we reported that Microsoft had confirmed plans to use the Chromium-based open-source platform, which is also used by the widely popular Google Chrome and other browsers, as the core for its Edge web browser.
Check Your Search Quality!

Test results for Click&Clean …
A few weeks ago, the first Beta build of the new Chromium-based Microsoft Edge Beta browser was released to the public for Windows 10, Windows 8.1, Windows 8, Windows 7, and macOS users.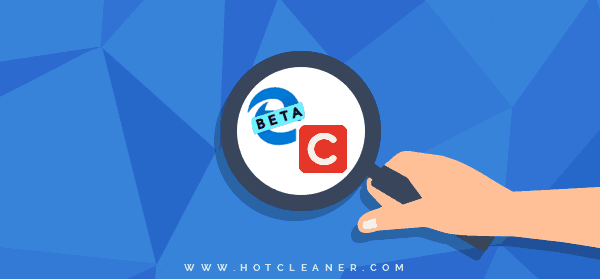 Edge Beta is the final and the most stable preview build available before the stable version of the browser will be released. It's important to note that in addition to the Edge extensions, the browser also supports Google Chrome extensions through the Chrome Web Store.
So, if you're looking forward to trying out Click&Clean with the new Edge Beta browser, now is a good time to do it.
How to Install and Use Click&Clean with Microsoft Edge browser.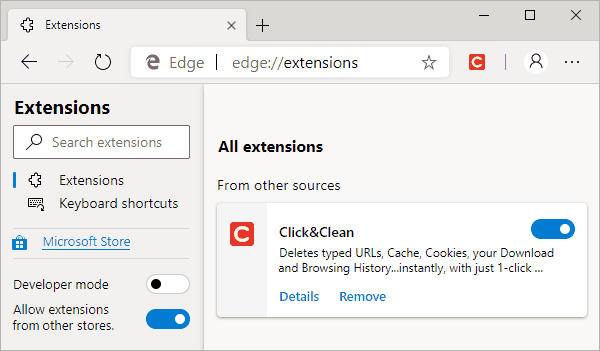 1. Download the new Edge Beta build at Microsoft's Edge Insider website, and then install it on your computer. The new Edge Beta version based on Chromium and the old version of Edge run side-by-side on the same computer.
2. When you start Edge Beta, it will ask if you wish to start from scratch or import data from a different browser, such as favorites, browsing history and auto-fill form data. You can also choose the layout for the new tabs: Focused, Inspirational, or Informational.
Most of the main menu options look the same as those offered in Chrome, with the exception of the Read Aloud option and the Incognito mode, which is renamed to InPrivate mode.
3. Click the button below to go directly to the Click&Clean page on Chrome Web Store.
Install Click&Clean from Chrome Web Store…
Or copy and paste https://chrome.google.com/webstore/detail/ghgabhipcejejjmhhchfonmamedcbeod to the new Edge Beta browser address bar and press "Enter".
4. When the extension page on Chrome Web Store opens, Microsoft Edge will display a notification informing you that you can install extensions from other stores. Click the "Allow extensions from other stores" and then confirm by clicking "Allow".
5. Click the "Add To Chrome" button near the top right-hand side of the Click&Clean information and then click the "Add extension" button to confirm the installation.
Now you can delete all your browsing data from the Edge web browser, according to your selected settings, or you can delete only certain private data, and in addition, you have the opportunity to export and save your browsing history before you delete it.
Privacy & Security Manual
Don't Forget to
Contribute ❤
, Like & Share!
The number one
History Eraser
app -
Click&Clean
,
Safe and Secure Browsing!