Update Chrome Now to Fix Critical Security Vulnerabilities
By Click&Clean - Friday, 22 May 2020. This week, Google released Chrome 83 to the Stable Release channel for all supported desktop and mobile operating systems, after version 82 was skipped due to issues related to COVID-19.
Check your search quality

Show results for Click&Clean …
As is typical, Google has provided corrections to vulnerabilities found in the major release of Chrome 83. This version addresses 39 security vulnerabilities, including 13 high-severity issues, 22 medium-risk bugs, and four flaws assessed as low-severity vulnerabilities.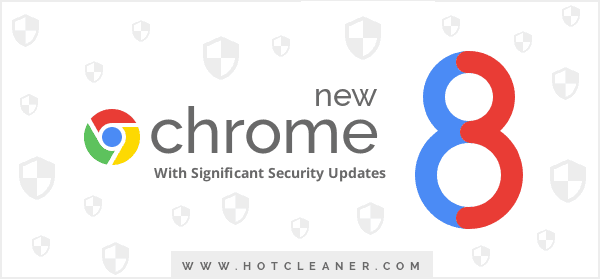 Exploitation of some of these security vulnerabilities may allow a cyber attacker to obtain unauthorized access to sensitive user information, cause a browser to crash, bypass implemented security measures, execute arbitrary code, or compromise and take control of vulnerable system. We strongly encourage that all users immediately apply the latest Chrome 83 browser update.
New Safety Check Tool and Enhanced Safe Browsing Mode
The Chrome 83 release includes many user-centric security features with numerous enhancements to help protect their data, provide online security, and increase privacy.
The safety check tool helps you verify if "Safe Browsing" mode is enabled, you are using the latest version of Chrome, you have malicious extensions installed, and whether your saved passwords have been compromised as a result of breaches online.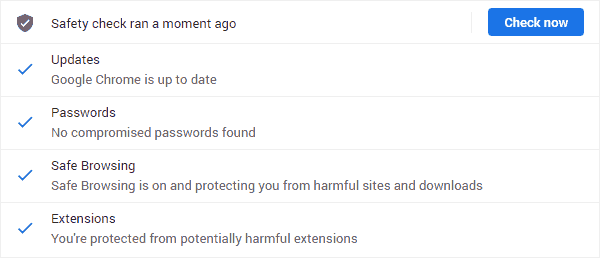 The Enhanced Safe Browsing mode provides real-time protection against malware, phishing, suspicious downloads, and other online cyberattacks while you browsing the web, all with a more proactive and individual approach.

To enable the safety check feature and Enhanced Safe Browsing mode, copy and paste chrome://flags/#privacy-settings-redesign into the Chrome URL bar, select Enabled and restart the browser by clicking relaunch now.
To access these features, go to the chrome://settings/ page or type chrome://settings/safetyCheck and chrome://settings/security into the Chrome address bar.
Chrome 83 also comes with many other changes, such as the new tab groups feature, new cookie controls in incognito mode, an extensions toolbar button, an Always show full URLs feature, and more, which you can enable by a specific flags at the chrome://flags page.