Update Your Chrome Web Browser As Soon As Possible!
By Click&Clean - Monday, June 27, 2022. Chrome 103 comes out on all main desktop and mobile systems about four weeks after the last major Chrome update, which was Chrome 102.
Desktop users, whether Windows, Mac, or Linux, are advised to update their web browser as soon as possible, as Google has confirmed 14 security vulnerabilities, including one rated as a critical security issue and two as high-severity security bugs.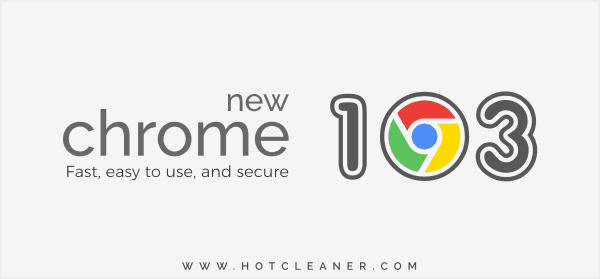 The Chrome web browser updates automatically on most desktop platforms, but it doesn't always go smoothly, so it's recommended that you expedite installation of the new security update. Clicking the button below will take you to the "Browser Update Checker" page.
"Browser Update Checker" displays your installed Chrome version and checks for available updates. If it detects that you have an outdated version of your web browser installed, for your security and data protection, you will be immediately prompted to upgrade.
Chrome version 103 contains several notable improvements, such as faster loading of web pages and local font access for web apps.
Faster Site Load Times
Like most modern browsers from other companies, Google is constantly working to make its popular web browser faster, and this new version brings further improvements in this task.
Chrome 103 introduces support for the new prerender implementation—"Prerender2"—or the so-called "103 Early Hints HTTP response code." What does this mean?
When you visit a site, the Chrome web browser starts preloading pages before you tap or click on a link. "Prerender2" improves speed even further, speeding up site loading by a few milliseconds with less resource consumption and fewer privacy and security concerns.
"Prerender2" is still in the trial phase, but you can enable it with the following Chrome flags:
chrome://flags/#enable-prerender2
chrome://flags/#omnibox-trigger-for-prerender2
chrome://flags/#search-suggestion-for-prerender2
Local Font Access for Web Apps
Starting with Chrome 103, web apps will be able to access the local fonts stored on your device. For security and privacy reasons, and to prevent fingerprinting attempts, web applications must obtain explicit permission from you to use your local fonts.