Google Chrome 102 is Now Stable and Ready for Upgrade!
By Click&Clean - Monday, May 30, 2022. Last week, Google released the latest version of its Google Chrome web browser, Chrome 102, to the official stable channel for all major platforms, including Windows, Mac, Linux, Chrome OS, iOS, and Android.
Most importantly, this major update includes a total of 32 security patches, including a critical security issue described as use-after-free in Indexed DB that could be exploited by a remote cyber attacker to corrupt data, perform DoS attacks, or execute arbitrary code on the vulnerable system.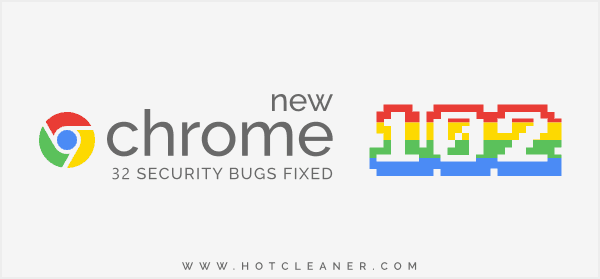 The latest release of Chrome 102 also addresses 8 high-severity vulnerabilities, 10 medium-risk flaws, and 13 issues assessed as low-risk security bugs. While Google plans to automatically roll out the update to all devices in the coming days and weeks, it's a good idea to promptly install the security fixes to protect your browser from potential cyberattacks and other security vulnerabilities.
Apart from the security fixes, Google Chrome 102 also comes with some changes, improvements, and new features.
New Keyboard Shortcuts for Tabs
Google Chrome 102 gives you the ability to speed up your web navigation by moving the active tab with a keyboard shortcut, meaning you don't need to touch the mouse.
If you want to rearrange the current tab, press Crtl + Shift + Page Up or Page Down to move it to the left or right, respectively. Please note, if your keyboard doesn't have "Page Up" or "Page Down" keys, you may need to also use the Fn + Up or Down keys, e.g., Crtl + Shift + Fn + Up.
Enhancements for Web Apps
Starting with Chrome 102, web applications can now open certain files on your computer, if the developer has provided such an opportunity. For example, a photo editing web application may allow you to click on an button to open any image file, such as JPEG, PNG, WebP, or Photoshop files, from your computer. Web applications can appear as an option in the "Open With" menu.
Another improvement for web apps is improved navigation. Chrome 102 includes a new API that allows web apps to navigate between pages more smoothly without needing to refresh.
Information About New Stores
Another new feature in Google Chrome 102 is that it can detect when you're visiting a store's website for the first time and give you access to information by asking if you'd like to learn more about the store.
This feature is still in the testing phase, but you can enable it with the following Chrome flag: chrome://flags/#page-info-about-this-site