Secure Your Smartphone and Your Personal Data
By Click&Clean - Saturday, January 11, 2020. What are the privacy risks when using a smartphone? Good question, the answer to which you can find here. Below are tips on how to keep spies away your phone.
Test your search quality!

Show results for Click&Clean …
1. Stay Up to Date
Always keep your smartphone's OS, antivirus, web browser, and other apps up to date. Don't open up holes for malware that exploits vulnerabilities. In almost every update, developers fix security flaws and strengthen security measures.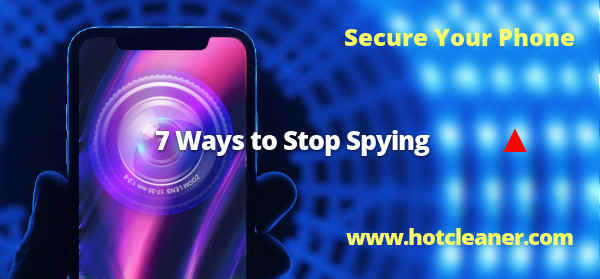 2. Review What's Already on Your Phone and Be Careful of What You Install
Carefully check which apps are installed and what access they have to your personal data. Install apps only from official stores, and never grant them permission to access your data if their requests seem excessive.
3. Lock Your Phone and Disable the Lock Notifications
Always use a six-digit passcode to unlock your smartphone to protect your phone from unauthorized access. Turn off notifications on the lock screen so that your private messages cannot be seen by others.
4. Use Strong Passwords and Two-Factor Authentication (2FA)
Always use strong and easy-to-remember passwords for your sensitive apps. Two-factor authentication is an additional level of security in case your password is compromised, which is especially important for your Google Account or Apple ID.
5. Use an Antivirus or Any Reliable Security Solution
An extra security solution help you protect downloaded apps, images, files, PDFs, etc. on your smartphone from malware infection. The antivirus software will warn you if any malicious files are detected.
6. Beware Using Free Public Wi-Fi
You can use public Wi-Fi hotspots only with adequate, strong, and proper protection. In a nutshell, anyone on the same network can spy on you. So, if you're in doubt about a public Wi-Fi network, just don't connect.
7. Use a Faraday Bag
By placing your smartphone inside a "Faraday bag," you're blocking all signals such as GPS, cellular, WiFi, Bluetooth, NFC, RFID, EMR, and EMF. This is helpful when you want to completely disconnect in order to be undetectable, unhackable, and untraceable.
Bottom Line
It's important to remember that your protection depends largely on your correct sharing of personal data online: don't overshare on social media, be careful with the sites you visit, beware of spam & phishing emails, and so on.