What Are the Privacy Risks When Using the Zoom App?
By Click&Clean - Thursday, 9 April, 2020. During the coronavirus pandemic, as a large number of people have started working remotely, the Zoom app has become one of the most popular video conferencing apps, with a huge increase in downloads and getting onto the top of the iOS and Android app stores.
Check your search quality

Show results for Click&Clean …
However, the rise in popularity automatically led to an increase in the number of cyber attacks, such as Zoom-bombing, when someone gets unauthorized access to a Zoom meeting to harass the meeting participants by spreading hatred, recording pranks, broadcasting shock videos, and so on.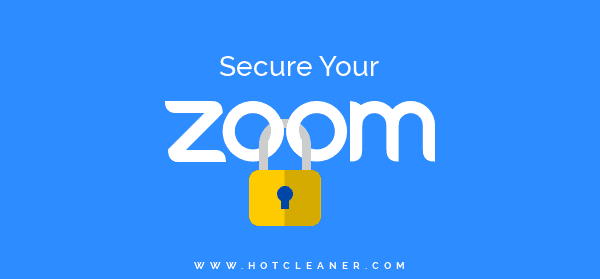 Last week, after receiving multiple reports of conference hijacking attacks, the FBI issued a warning to Zoom users that they should be careful and diligent about protecting their data in order to mitigate cyber attacks, as well as reporting to the FBI's Internet Crime Complaint Center if one becomes a victim of a video conference hijacking.
What Can I Do to Secure the Zoom App as Much as Possible?
Below are some essential steps you can take to secure your Zoom meetings from Zoom-Bombing threats.
1. Keep the Zoom App Updated
Like any software, web browser, or operating system, Zoom is subject to security vulnerabilities that are fixed with each update. In Zoom, click on your user icon on the top right and select "Check for Updates."
2. Disable Screen Sharing
To prevent your meeting from Zoom-bombing attacks, you should manage screensharing options. In Zoom, go to "Advanced Sharing Options," then under "Who Can Share?" change the setting to "Only Host."
3. Protect Your Meetings With a Password
Zoom enabled the "Require meeting password" setting by default when you create a new meeting. Therefore, never deselect this option in order to protect your meeting from someone's unauthorized access.
4. Use Waiting Rooms
When you create a new meeting, choose the "Enable waiting room" setting in "Advanced Options." This prevents anyone who joins the meeting from entering without being previously admitted by you.
5. Don't Share Links to Your Meetings in Public
Never post the invite links to your meeting on public social networks. The Zoom app embeds passwords in the invite links by default; therefore, if attackers have this link, they can Zoom-bomb your meeting.
6. Beware of Phishing
Always be careful when clicking on any meeting invitation links. Scammers may spread phishing links to trick people into visiting a malicious site to download malware or enter personal details. If something looks suspicious, just copy the ID from the link and enter it in the Zoom app.
Working from home?
Use the six helpful tips for better and secure video calls.