Make Your LinkedIn Account More Secure
By Click&Clean - Monday, June 10, 2019 - Updated: January 11, 2023. Cybercriminals are becoming more flexible and using new technologies, adapting their attacks and cooperating in new ways to gain access to people's accounts in any way. We have written repeatedly about how you can improve the privacy and security of your online accounts with such companies as Microsoft, Google, Twitter, and Facebook by performing simple steps.
Check your search quality

Show results for this page …
Today, in this article, as a continuation of the subject of the security of your online accounts, we will describe a few simple things that will help you make your LinkedIn account more private and secure.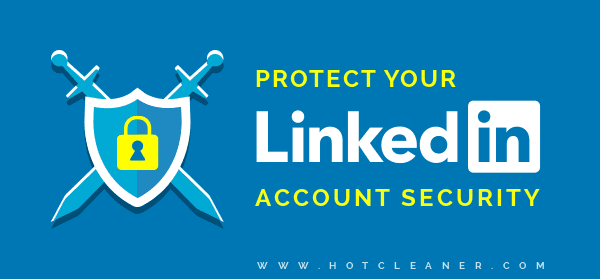 You join LinkedIn to keep in touch, communicate, and share information with your professional network, and you may feel that you do not need to worry about changing your privacy and security settings.The company allows you to connect your LinkedIn account to third-party services and applications to help you network and make it easier to do different tasks.
Connecting your LinkedIn account to third-party services or apps is easy, just like joining LinkedIn, but you need to know that it increases your vulnerability to security and privacy threats. Simply put, the more third-party services and applications that you give permission to access your LinkedIn personal data, the more you compromise your security and privacy online.
If one of the connected services or applications with access to your LinkedIn account has been compromised, the hackers will probably be able to retrieve some of your personal data without your knowledge.
Therefore, it's reasonable to check how many third-party services you have granted permission to your LinkedIn data, and to revoke access from those that you no longer consider useful.
How to Remove Third-Party App Access to Your LinkedIn Data
1. Click the button below to go directly to your LinkedIn Permitted Services section.
2. Log into your LinkedIn Account if you're not logged in already.
3. In the Permitted Services section, you will see a list of every third-party service and app you've connected to your LinkedIn account.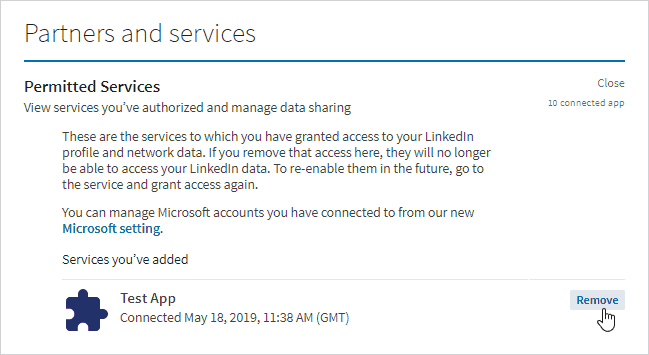 4. To remove or revoke permission from services and apps with access to your LinkedIn account, simply click the Remove or Revoke button next to each service or app.
Be sure to regularly check the list of your connected third-party services, and don't forget to take away their access if you stop using them to improve the protection of your LinkedIn private data.