Google Chrome 92: Security Fixes, New Features, and Changes
By Click&Clean - Wednesday, July 21, 2021. Nearly two months after the release of Chrome's version 91 for all platforms, including Windows, macOS, Linux, and Chrome OS, as well as iOS and Android, Google released a new stable version of its web browser on Tuesday.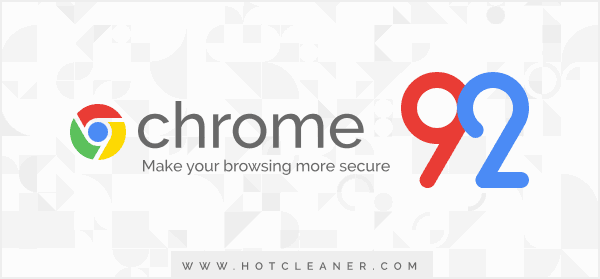 When the update comes out, Google Chrome should automatically update itself, but disabling the automatic updates or never restarting your browser may prevent it from doing so. If you haven't updated your Chrome to the latest version, you may be more vulnerable to cybersecurity attacks. Click the button below to check and update your web browser immediately.
Improved Privacy, Security, and Data Protection
The latest Chrome 92 is a security update that addresses 35 security vulnerabilities, including 11 high-severity flaws, 13 medium-risk bugs, and 11 issues assessed as low-risk vulnerabilities.
This update resolves high-risk security flaws, such as the following:
Out-of-bounds write - This vulnerability allows a remote cyberattacker to compromise a vulnerable system. It may result in corruption of sensitive data, a crash, or code execution.

Improperly implemented security check for standard - This vulnerability allows a remote cyberattacker to gain access to sensitive information.

Permissions, privileges, and access controls - This vulnerability allows a remote cyber attacker to bypass implemented security restrictions.

Stack-based buffer overflow - This vulnerability generally leads to crashes and the possibility to put the program into an infinite loop and to execute an arbitrary code, which allows a remote cyberattacker to compromise a vulnerable system.

Heap-based buffer overflow - This vulnerability often leads to security errors that allow cyberattackers to cause arbitrary code execution and even a system crash.

Use-after-free - This vulnerability can provide many unfavorable effects: corruption of real data, DoS crash, execution of arbitrary code, and malicious input by cyberattackers.
More Efficient Anti-Phishing Protection
One of the several new security abilities built into Chrome is a new technology to spot phishing websites. Phishing websites—spoofs designed to harvest your personal information—are a major security risk, but with version 92, the web browser performs image-based phishing classification up to 50 times faster.
Through a new approach, phishing site analysis now takes tenth of a second on average instead of 1.8 seconds, increasing the likelihood that it will be finished before you have a chance to hand your sensitive data over to cybercriminals.
Site Isolation Technology Improvements
Site isolation technology helps prevent malicious sites from stealing data from other sites by separating computing processes into separate zones or, more simply, separating sites from each other.
Starting with Chrome 92, Google's site isolation technology will be applied to Chrome extensions so they can no longer share processes with each other on desktop systems. This is intended to provide an additional line of defense against malicious and harmful extensions.