Google Chrome Version 91 is Now Stable, Ready for Upgrade
By Click&Clean - Wednesday, May 26, 2021. Following the release of Chrome version 90 for all major platforms, including Windows, macOS, Linux, etc., the next release of the popular Google Chrome web browser version 91 was released yesterday.
The latest Chrome version 91 includes improved security and data protection, enhanced safe browsing, Tab Groups freezing, enhanced performance, a new copy and paste functionality, and other new features and changes.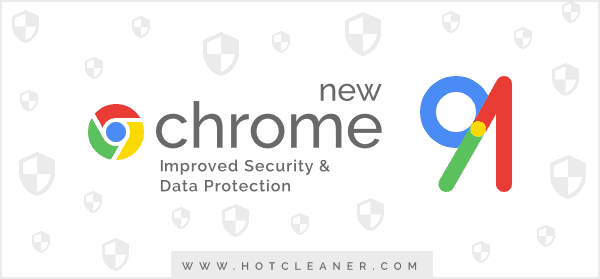 If you haven't upgraded to Chrome version 91, you may be more vulnerable to cyber security threats and miss out on improvements and new features in the web browser. We strongly recommend that you don't wait and instead upgrade the web browser immediately by clicking the button below.
Improved Security and Data Protection
Chrome version 91 addresses 32 security vulnerabilities, including 8 high-severity bugs, 9 medium-risk issues, and 15 flaws assessed as low-severity vulnerabilities.
This update resolves high-risk security bugs, such as "heap-based buffer overflow," "use-after-free," and "out-of-bounds write," which could allow an remote attacker to compromise a vulnerable system and arbitrarily execute malicious code if a user visits a malicious site.
Enhanced Safe Browsing
On the Chrome security page chrome://settings/security, if enabled the Enhanced Safe Browsing option, then the web browser will send the referrers of suspicious sites to the Google company and provide users with the option to send downloads to Google for deeper scanning if the existing privacy and security checks have failed. Tokens associated with a Google account are added to phishing detection requests to provide better data protection and reduce false positives.
Collapsed Tab Groups Freezing
Tab Groups that are collapsed to take up less space, will be automatically frozen by the web browser to avoid using system resources in the background. Exceptions include tabs that being mirrored, capture video, play audio, are connected to a USB device, and some other types of activity.
Copy and Paste for Files
Chrome version 91 brings a very useful feature that allows users to copy a file from anywhere on their computer and then paste it into an email or web service. Now, users to be able to use clipboard keyboard shortcuts, such as "Ctrl+C" to copy a file, "Ctrl+V" or "right-click and Paste" to upload a file.
Other Important Changes in Chrome Version 91
Other changes are also available in this release, such as support for WebAssembly SIMD, support for JSON modules, support for WebTransport protocol framework, JavaScript will support modules in service workers, blocked HTTP port 10080, enabled GravitySensor API, installed Progressive Web Apps can start automatically with the OS on the desktop, etc.