Google Chrome 98 Stable Is Out—Here Are the Changes
By Click&Clean - Saturday, February 5, 2022. Following the first major release of Chrome version 97 in the year 2022, the next release of the popular Google Chrome browser, version 98, was rolled out to the public on February 1, 2022, for desktop and mobile platforms, including Windows, macOS, ChromeOS, Linux, Android, and iOS.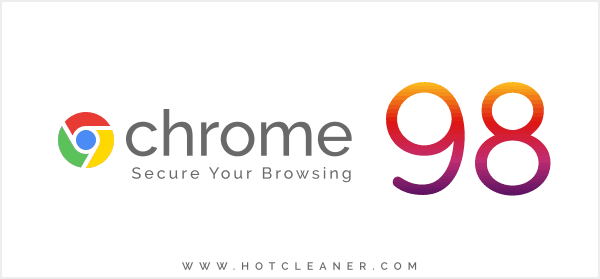 The update process to Chrome 98 is automated: The web browser will download and install the update on your device in the background when it's available. But due to the many high-severity security vulnerabilities that affected previous versions of the web browser, we recommend that you speed up the update process and immediately check for the latest Chrome 98 update by clicking the button below.
Improved Security, Privacy, and Data Protection
The latest Chrome 98 is a security update that closes 27 security holes, including 10 high-severity bugs, 10 medium-risk flaws, and 7 issues assessed as low-risk vulnerabilities.
Here is a short list of high- and medium-risk security bugs that have been fixed in Chrome 98:
Inappropriate implementation in Full Screen Mode (CVE-2022-0455), Scroll (CVE-2022-0462), Extensions Platform (CVE-2022-0466), and Pointer Lock (CVE-2022-0467)—this vulnerability allows a remote cyber-attacker to gain access to the user's sensitive information when the user visits a specially crafted malicious web page.

Use-after-free bug in Safe Browsing (CVE-2022-0452), Reader Mode (CVE-2022-0453), Web Search (CVE-2022-0456), Thumbnail Tab Strip (CVE-2022-0458), Screen Capture (CVE-2022-0459), Window Dialog (CVE-2022-0460), Accessibility (CVE-2022-0463, CVE-2022-0464), Extensions (CVE-2022-0465), Payments (CVE-2022-0468), and Cast (CVE-2022-0469) components—this vulnerability could have devastating consequences ranging from valid data corruption to the execution of malicious code on a compromised vulnerable system.

Heap-based buffer overflow in ANGLE (CVE-2022-0454)—this vulnerability often leads to security errors that allow a cyber-attackers to cause arbitrary code execution and even a system crash.

Type confusion in V8 (CVE-2022-0457)—this security flaw allows a cyber-attacker to execute arbitrary code on the target system, which could lead to a complete compromise of the system.

Improper access control in COOP (CVE-2022-0461)—this security bug exists due to improper access restrictions and could allow a remote cyber-attacker to bypass implemented security restrictions when the user visits a specially crafted malicious web page.

Out-of-bounds read in V8 (CVE-2022-0470)—this vulnerability allows a remote cyber-attacker to trick the user into visiting a malicious web page, then trigger an out-of-bounds read error and crash the web browser.
Privacy Guide
One of the new features in Google Chrome 98 is called "Privacy Guide," which helps users evaluate their privacy, as well as their web and app activity, while using the web browser. It will guide you through a series of settings that you can change to protect your security and privacy.
You can enable this feature with the following Chrome flag: chrome://flags/#privacy-review. Once enabled, you'll find the "Privacy Guide," option in the "Security and Privacy" settings in your Chrome browser.
Updated Emojis
Starting with Chrome 98, Google has implemented a new set of COLRv1 color gradient vector fonts, which reduce file size to about a fifth while simultaneously improving the quality, making especially large emojis look much better than commonly used bitmap fonts.
It's not as noticeable at small emoji sizes, but when you zoom in, you can see a significant improvement.
Built-in Screenshot Tool
Another new Chrome 98 feature is the built-in "Screenshot tool." This new feature is still under development and hidden behind the Chrome flags. If you enable the chrome://flags/#sharing-desktop-screenshots flag, you'll find a new "Screenshots" button underneath "Copy link" when you click the share icon in the address bar.
At the moment, it doesn't always work properly: Sometimes it crashes when you try to save a screenshot to your computer.