Click&Clean v7.7 for Google Chrome™
Wednesday, October 26, 2011

The new Click&Clean version 7.7.0.0 has been released!
Special thanks to all those who have supported us by donations! Today, it is essential to safeguard people's data and privacy. Serving business and home users, we are eager to provide a comprehensive and innovative private data cleaning tool. The #1 Private Data Cleaner for anyone that wants to
protect his/her privacy
while browsing or shopping online.
Click&Clean v7.7 Release Notes
Redesigned Options Page, Menu
Added Cookie and Site Data Whitelist (Beta)
Compatibility with the latest Chrome Stable v.15.0.874.102, Chrome Dev v.16.0.912.4, Chrome Canary v.17.0.918.0
Added New Anti-Malware Database (by BitDefender Labs)
Minor improvements. A lot of the changes are behind the scenes: code optimizations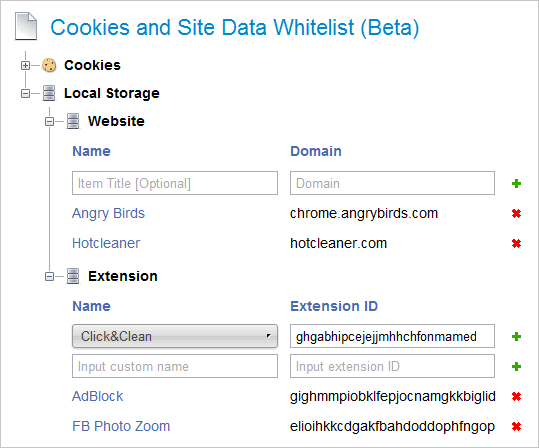 Update to the latest version of Click&Clean: Update Checker
If you have any suggestions on how we can make your experience with Click&Clean even more worthwhile, please feel free to contact us by filing out our suggestion box on the Feedback page.