Monthly Calendar Theme for Google Chrome™
---
Get for free an official Click&Clean-inspired theme for Google Chrome™ that includes a handy monthly calendar. Automatically updates itself every month. Easy to isntall and uninstall.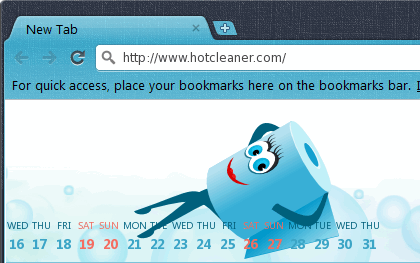 Download and Install Calendar Theme
---
You can add Calendar Theme to your Chrome web browser from Chrome Web Store. To do this, click on "Get from the Web Store" button below, this opens the download page for Calendar Theme on Chrome Web Store. Then just click on "Add to Chrome" at the top-right to start downloading and installing. Thats all. By downloading and installing Calendar Theme, you agree to our privacy policy.
100% Clean, Safe and Free, No Hidden Puzzles!
Name: Calendar Theme, inspired by Click&Clean
Version: 13.1
Theme ID: dbhckmakhfceadaocgmgblaccdnjgaka
Released: January 1, 2023
License: Freeware
OS: Windows 10 / 8.1 / 7 / Vista / XP
Mac OS X / Linux (Ubuntu, CentOS, …) / Chrome OS
Browser version: Google Chrome™ 54+
Language: English
Related Apps
---
Click&Clean for Microsoft Edge™
The best private data cleaner for Microsoft Edge™ web browser.
Cleaner for Edge
.
Click&Clean for Google Chrome™
The #1 browsing data cleaner for Google Chrome™ web browser.
Cleaner for Chrome
.
Click&Clean for Firefox
The fast and easy way to remove your browsing history and junk files on
Firefox
.
Popular
---
Stop Spying on Your Account
Stop spying on your Google Account and prevent third-party apps from accessing your Google account.
Security Checkup
.
Protect Your Privacy On Facebook™
How to check and remove apps with access to your
Facebook account
.
How to Update Google Chrome™ on Your Mobile
Even with the auto-update feature turned on, your Google Chrome™ browser may not be updated!
Update Your Chrome
.
Tips for Creating Secure Passwords
How to make your password more secure? Tips for creating secure and easy-to-remember
passwords
.
G-Test
---
Test your search quality. Show results for Click&Clean.