Security Fixes and Privacy Changes in Chrome 119
By Click&Clean - Saturday, November 11, 2023. On October 31, less than four weeks after the release of Chrome 118, Google rolled out the next major update to the stable version of its web browser, Chrome 119. As always, this was primarily a security update, but it also included some new features and changes.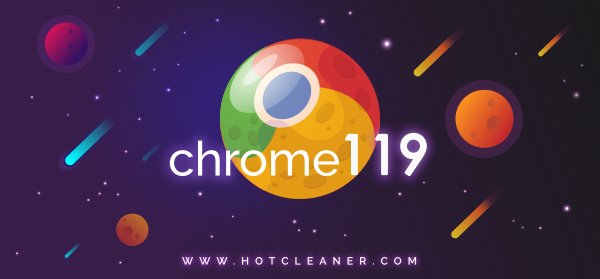 The update addressed 15 security vulnerabilities, including 13 reported by external researchers. Three security vulnerabilities are rated as high-risk security bugs, eight are rated as medium-risk, and four issues are rated as low-risk security vulnerabilities.
But this week, on November 7, following this major update, Google released a point update for Chrome Stable 119 that addresses one critical, high-risk security vulnerability in the web browser.
Use after free in WebAudio (CVE-2023-5996 Security severity: High) - This security vulnerability allows a remote cyber-attacker to trick the user into visiting a malicious web page, then triggers a use-after-free error to inject and execute arbitrary program code on the target system. Successful exploitation of this security vulnerability could lead an cyber-attacker to compromise the affected system. Google Chrome versions 100.0.4896.60 - 119.0.6045.106 are affected by this security bug.
Google notes, the security update should be installed automatically on all major platforms in the coming days or weeks. If you are still using an outdated, insecure version of your web browser, don't wait and immediately update your Chrome web browser to the latest secure version to stay protected online from potential cyber-attacks and data breaches.
Clicking the button above will take you to the "Browser Update Checker" page, which will check for available updates. If it detects that you have an outdated version of your web browser installed, you will be immediately prompted to upgrade. The page should show the following versions of Chrome web browser after the security update is installed:

• Chrome versions 119.0.6045.123 and 119.0.6045.124 on Windows
• Chrome version 119.0.6045.123 on Linux and Mac
• Chrome version 119.0.6045.109 on iOS
• Chrome version 119.0.6045.134 on Android
What's new in Chrome 119
• In Google Chrome 119, Google has made a number of improvements to the address bar, such as an improved visual layout of suggestions below the address bar, the ability to search across bookmark folders, and automatic detection and correction of typos.
• In Chrome 119, you can now save and sync tab groups so they become available across all desktop devices running Chrome under the same Google account.
• Chrome 119 for iOS now allows users to continue browsing seamlessly across devices, so now you can quickly pick up where you left off on the website you recently opened on another device.
• Another new feature for Chrome users on iOS is the ability to save images directly to Google Photos by long-pressing on them.