Google Chrome 96 Stable Released, Update Now!
By Click&Clean - Tuesday, November 16, 2021. Google released a new stable version of its Chrome web browser on November 15, 2021 for all supported desktop platforms and Android.
Google Chrome 96 includes many different improvements and bug fixes, and addresses various security vulnerabilities that affected previous versions of the web browser.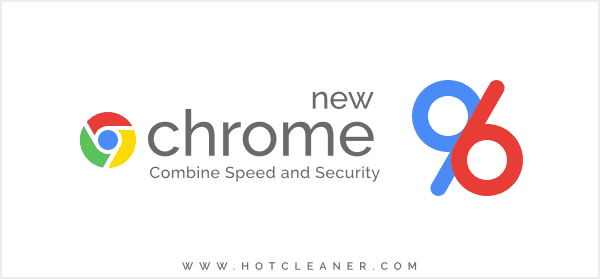 Therefore, the new version of Chrome 96 should be immediately imported by all users on all supported operating systems to protect themselves from cybersecurity attacks and data breaches. If you haven't received the update yet, don't risk your security—update your Chrome web browser by clicking the button below.
Security Patches in Chrome 96
Google Chrome 96 includes 25 different patches for security vulnerabilities, including 8 high-risk security flaws, 9 medium-severity bugs, and 8 issues that have been identified as low-risk vulnerabilities.
This major update resolves high-risk security bugs, such as the following:
Type Confusion in V8 component - When the user visits a specially crafted malicious web page, a remote cyber-attacker can trigger a type confusion error, execute arbitrary code, and completely compromise the target system.

Use-after-free - This vulnerability can lead to many unfortunate consequences: execution of arbitrary code, DoS crash, corruption of real data, and malicious input by remote cyber-attackers.

Improperly implemented security check for standard - This vulnerability allows a remote cyber-attacker to gain access to the user's sensitive data when the user visited a specially crafted malicious web page.
Faster Page Navigation
Chrome 96 for desktop comes with a new feature called "Back Forward Cache" that can save you valuable time when navigating back and forth between sites. When you go back or forward, the websites you recently visited will be ready faster. This will probably require even more RAM usage by the browser, but it might be worth it.
Dark Mode Per-Site Option
Starting with Chrome 96 for mobile, Google has added a new in-development feature that allows you to add exceptions for websites that you don't want to display in dark mode.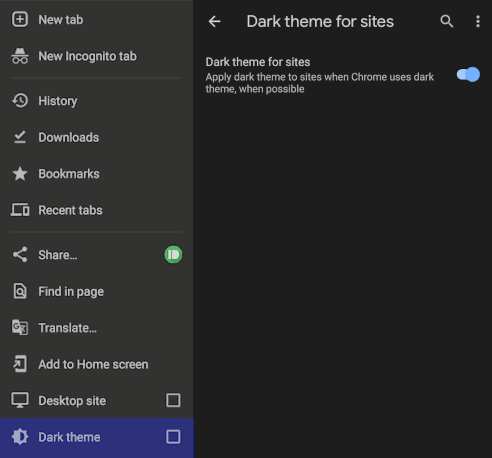 Chrome Dark Mode Per-Site Option
If you enable the chrome://flags/#darken-websites-checkbox-in-themes-setting flag, you will find a new "Dark theme" option in the Chrome settings menu.
Further Changes in Chrome Version 96
Other changes and improvements are also available in Chrome 96, such as New tab Photos memories, unique IDs for desktop Progressive Web Apps (PWAs), preserve PNG metadata, accessibility site zoom in Chrome for mobile, new credentialless policy for Cross-Origin-Embedder-Policy, enhanced content security policy, etc.