Are You Sure Your Webcam Is Working Properly?
By Click&Clean - Friday, July 3, 2020. These days, when many of us have started working remotely, video conferencing apps, such as Zoom, Google Meet, Slack, Webex, Skype, etc., have become more in demand.
As a result, it has also become necessary for your webcam to be operating correctly, so that it is always ready for use when you need it. Therefore, we decided to create a free, fast, simple, 100% private and secure online tool that will help you check the web camera on your computer and the cameras on your smartphone.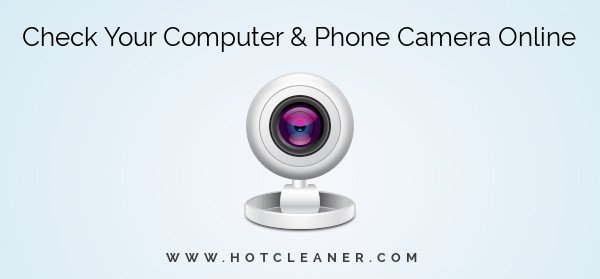 Our online webcam check tool doesn't require any installation, provides a simple and safe one-click way to test if your webcam is working properly, and works in all modern browsers, both desktop and mobile.
How Can I Check My Webcam on Windows and Mac?
1. Click the button below to open "Webcam Check", a free online webcam test tool.
2. On the "Webcam Check" page, click on "Test Your Camera", and allow access to the camera if prompted.
3. Your webcam feed should appear in the center of the page, indicating that the webcam is working.
The "Webcam Check" tool will detect all your connected webcams and will display the manufacturer's name, maximum supported resolution and frame rate of your camera. It will also provide a list of the most commonly used video resolutions.
You can easily customize your camera by changing the resolution and frame rate to choose the most suitable settings for you.
To avoid a failed webcam test, make sure you're using the latest updated browser version, the webcam is properly connected, the lens is not covered, and you have allowed access to the webcam.
We also recommend that you familiarize yourself with the helpful guide on how to secure your webcam and protect yourself against webcam hackers.
How Can I Test My Camera on Mobile Phone?
1. On your smartphone, launch a web browser (on iPhone and iPad, we recommend you use the Safari browser), and type hotcleaner.com/webcam-test/ or tap the button below.
2. Then, tap on "Test Your Camera", and select "Allow" when a permission request appears.
3. Your front camera feed should appear, indicating that the camera is working and properly configured.
Now, you can start setting up the front and rear cameras of your mobile phone by changing the frame rate and resolution. In addition, you can also take a snapshot by selecting the round button under the camera feed to make sure that the settings you selected for image quality are correct.