Google Chrome 90 - What You Need to Know
By Click&Clean - Thursday, May 7, 2021. Some weeks ago, Google released a major update to its Chrome web browser for all major platforms, including Windows, macOS, and Linux, as well as Android and Chrome OS.
The Chrome update includes important security fixes, improved data protection, more secure connections, better video streaming, stability and performance improvements, and new features.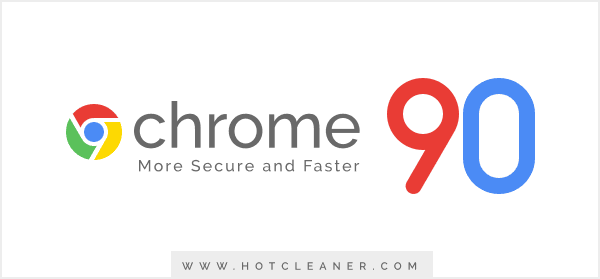 If you haven't updated your Chrome to the latest version yet, you may be more vulnerable to cyber security threats and are missing out on many great features and improvements in your web browser.
Chrome 90 Security Fixes
The Chrome 90 update fixes 37 security bugs, including 1 critical bug, 19 high-risk severity issues, 12 medium-risk vulnerabilities, and 5 low-risk flaws.
Google has fixed one critical zero-day security bug used at the Pwn2Own competition that are actively being exploited in the wild and identified as CVE-2021-21224. Successful exploitation of this vulnerability can lead to a complete system compromise on PCs with vulnerable versions of Chrome web browser.
Improved Security and Speed
Starting with Chrome 90, the web browser loads websites over encrypted HTTPS protocol by default. This provides a higher level of privacy and data protection for you, as well as increasing the loading speed of websites.
NAT Slipstreaming Protection
In Chrome 90, Google added additional protection against NAT Slipstreaming attacks by blocking HTTP, HTTPS, and FTP servers connected on port 554. These connections will fail.
Personalized Names for Web Browser Windows
In Chrome 90 for desktop, if you have multiple Chrome windows open, you can give them personalized names to keep them organized. Right-click the window's title bar, choose "Name window…" and enter a name for the current Chrome window in the text box that appears. These names will show up in the taskbar.
Built-in AV1 Encoder Support
Video calling is very popular these days, so Chrome 90 adds support for the AV1 encoder for better video quality and less bandwidth usage in video conferencing software like Zoom, Google Meet, Microsoft Teams, and others using WebRTC (Web Real-Time Communication) technology.
Other Features
Other new features and APIs are also available in Chrome 90, such as WebXR Depth API, Shadow DOM, Core Web Vitals, WebXR AR Lighting Estimation, WebAssembly Exception Handling, Clipboard: read-only files support, etc.