What Is Click&Clean Quick Access Menu?
The Quick Access Menu is a new experimental feature that we have added in Click&Clean version 9.7.5.1, which was released on September 24, 2020.

With this menu, you can speed up access to useful Click&Clean features on almost any website while you are browsing the web, thereby increasing your privacy and security. If you haven't installed Click&Clean yet, you can install it right now or check for the latest updates if you have the extension installed.
What Features are Available in Quick Access?
In version 9.7.5.1 we have included several experimental and useful features:
Open in Incognito allows you to quickly open the site you are currently browsing in a private window. Your online activity will be invisible to others who also use your browser, and your browsing history will be auto-deleted after you close that window.
History Tracker feature lets you quickly track the number of web sites you have visited and get quick access to your Browsing History records, where you can view and easily manage your browsing history; filter visited pages by website name; remove all or selected history records; save to a file all of your browsing history.
Forget This Site works like Anti-Spy or Panic button. It allows you to instantly close the current active tab and other tabs of the website you are currently browsing. All website records will be removed from the history as well as from the list of recently closed tabs. After that, no one will be able to reopen these closed tabs and find out what pages you have visited.
Can I Customize the Quick Access Menu?
At the moment, the Quick Access Menu is in beta-status, so customization is not yet available. But we are working on it and plan to add more useful, selectable, and customizable features in future releases. If you have any wishes or suggestions, you are welcome to contact us at any time!
Where Do I Find the Quick Access Menu?
To start using the Quick Access Menu, you must first enable it in the Click&Clean settings under the "Extra" section. Then, when you browse any website, you will see the gray Click&Clean icon that appears in the lower-left corner of the screen.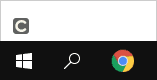 Simply tap or click on it with the left mouse button to open the "Quick Access Menu." If you want to hide the gray Click&Clean icon from the current page, just right-click it. To completely disable on all pages, simply go to the Click&Clean preferences and uncheck the "Quick Access Menu" option.
Contribute
Click&Clean is an absolutely free extension for everyone. If you can make a contribution it would be extremely appreciated.
Securely via PayPal to webmsater @ mixesoft.com
---
Getting Started
A quick start guide covers how you can quickly get started using Click&Clean to protect your privacy and security online.
Quick Help Guide …
---
Popular
Stop Spying on Your Account
Stop spying on your Google Account and prevent third-party apps from accessing your Google account.
Security Checkup
.
Webcam Protection
5 security tips to protect yourself against webcam hackers.
Secure Your Webcam
.
Tips for Creating Secure Passwords
How to make your password more secure? Tips for creating secure and easy-to-remember
passwords
.
G-Test
Test your search quality. Show results for Click&Clean.