Choose the Desired Action and
Click&Clean Does the Work
for You!
---
Note: this page lists features of Click&Clean that are deprecated and obsolete. If you want to read about latest features of Click&Clean, please look at the "Click&Clean for Google Chrome™" web page.
Starting from Click&Clean version 7.8, you can choose an action to perform when you click on the Click&Clean icon placed at the right of Google Chrome's address bar. Currently, there are two basic actions you can choose from.

The first option, which is enabled by default for all new users, is Clear Browsing Data. This means that when you click on Click&Clean button, a Clear Browsing Data dialog (see screenshot below) will open so you can remove your private browsing data (typed URLs, your browsing and download history, cache, cookies, stored passwords, saved form data, Flash LSO, Silverlight cookies, and Java cache) instantly, with just a click.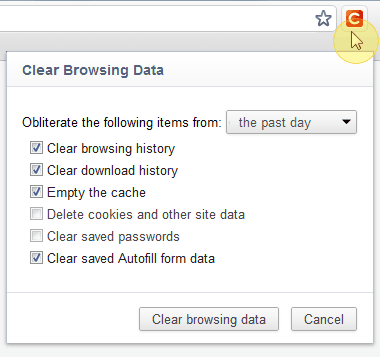 However, if you wish to access more extra features and services (turned on by default for users who have upgraded from previous versions of Click&Clean) such as Disk Cleanup, Defragmenter, Video History, Task Manager, Malware Scanner, Chrome experiments and hidden pages, etc., you can choose to show an organised menu of features.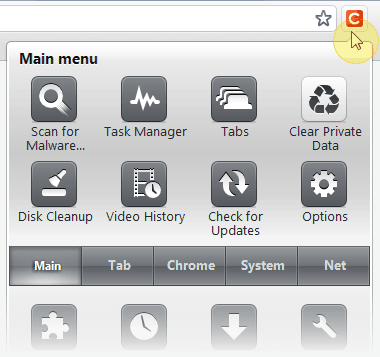 1. Open Click&Clean preferences.
2. Click on the left menu "Advanced", and then select the checkbox "Enable extra features".

If you have any suggestions on how we can make your experience with Click&Clean even more worthwhile, please feel free to contact us by filing out our suggestion box on the feedback page.
FAQ
---
Frequently asked questions and answers related to Click&Clean:
FAQ
.
Related Apps
---
Click&Clean for Microsoft Edge™
The best private data cleaner for Microsoft Edge™ web browser.
Cleaner for Edge
.
Click&Clean for Google Chrome™
The #1 browsing data cleaner for Google Chrome™ web browser.
Cleaner for Chrome
.
Popular
---
Secure Your Webcam
Why your webcam security matters? Should you cover your webcam?
Secure Your Webcam
.
Save Browsing History
How to export and save your browsing history before you delete it.
Manage your browsing history
.
Protect Your Privacy On Facebook™
How to check and remove apps with access to your
Facebook account
.
How to Update Google Chrome™ on Your Mobile
Even with the auto-update feature turned on, your Google Chrome™ browser may not be updated!
Update Your Chrome
.
G-Test
---
Test your search quality. Show results for Click&Clean.